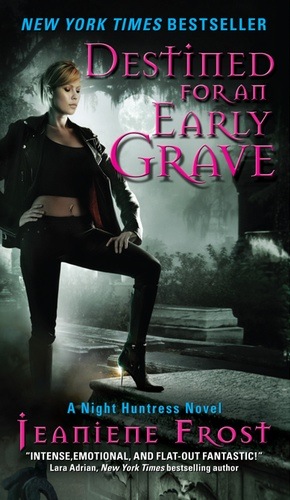 "Since half-vampire Cat Crawfield and her undead lover Bones met six years ago, they've fought against the rogue undead, battled a vengeful Master vampire, and pledged their devotion with a blood bond. Now it's time for a vacation. But their hopes for a perfect Paris holiday are dashed when Cat awakes one night in terror. She's having visions of a vampire named Gregor who's more powerful than Bones and has ties to her past that even Cat herself didn't know about.





Gregor believes Cat is his and he won't stop until he has her. As the battle begins between the vamp who haunts her nightmares and the one who has her heart, only Cat can break Gregor's hold over her. She'll need all the power she can summon in order to bring down the baddest bloodsucker she's ever faced ... even if getting that power will result in an early grave."
Cat has started to have nightmares about being hunted, forced towards a man she feels she knows. But the dreams seem too real to mean nothing. The man, Gregor, is after Cat believing she is his, and not Bones'. He works to steal her from Bones, while Bones does everything he can to keep Cat safe.
But a part of Cat wants to go to Gregor, at the least for answers, she wants the truth about her experience with him. Understandably Bones isn't happy about it and things become tense between the couple as Bones fights to keep Cat safe, and Cat fights for the truth as she tries to keep everyone else safe. Before long, more than Cat's life is in danger, the stakes are upped and the fight is on.
Destined For An Early Grave is the fourth book in the Night Huntress series by Jeaniene Frost. I loved the first two books in the series (Halfway To The Grave and One Foot In The Grave) and thought the series was likely to become a favourite. I questioned that after reading the third book, At Grave's End and finding it much less intense and with little of the sizzling chemistry from the first two books. I hoped this would be an improvement and to start with, it was. The story started out well, with a strong plot and the characters seemed much more 'alive' again this time around. There was plenty of darkness and Cat and Bones had their work cut out for them.
But as the book went on, I found it became predictable. Instead of barely survived big fights, Cat develops sudden new powers and suddenly it's an easy win. Big build up and then nothing. All over with almost no consequences for the main couple. The tension between Cat and Bones started out well too, but became tedious because both characters deserved a slap and should have just talked instead of ignoring each other. I've never been a huge Bones fan, but I disliked him even more through this book. And his similarity to Spike from Buffy the Vampire Slayer doesn't do him any favours at all.
Overall, it is still a decent enough read, I finished it in a couple of days, but it didn't have the flair, punch or surprise of the first two books. There were a couple of little things that were surprising, but they weren't enough to make me go 'Wow! Never saw that coming!' like I did a lot in the first two. I wasn't left wanting more, and I wasn't even inclined to find out when the next book is out after finishing it. I do hope the next is better because this series started out with so much promise. 6/10