THIS GIVEAWAY IS NOW CLOSED!! WINNER WILL BE ANNOUNCED SHORTLY.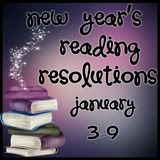 New Year's Reading Resolutions Giveaway Hop is being hosted by
Candace's Book Blog
,
Pure Imagination
and
Reading Angel
and runs between Jan 3rd until Jan 9th midnight EST.
This is a week long giveaway hop in which MASSES of book blogs are taking part giving readers the chance to win lots of books and book related stuff! Check out the full linky list of participating blogs below my giveaway details or visit any of the hosting blogs from the links above. Before the giveaway details though...
My New Years Reading/Bookish Resolutions
-
Make my TBR pile smaller!!
This is my TBR stack at present:
Plus the titles on my Kindle not yet read, and add in all the 2011 releases I'm after (Amazon wishlist of them currently 80+), plus any extra review titles and all the other 2011 releases I'll want that aren't listed/on my radar yet...you get the idea O_O
-
Buy fewer books!!
Okay, with all the awesome sounding books coming out this year, this could well be tricky, but I want that TBR pile under control, and if I just keep buying more books, that won't happen!! Also, I really can't afford it. I was so broke in 2010 cause I just kept buying books. And then they'd sit there for weeks or months untouched (not always, obviously, but still). And I need to stop buying double copies just for prettier covers or whatever as well!!
-
Learn to not force myself to finish a book I'm not enjoying
- I'm not good at DNF's. I keep reading because I always think a book/series should be finished once it's started. I will drop a series if it gets too bad, but mostly I just keep going and it's stupid cause really, there are too many other books out there I could be reading and loving!
-
Schedule reviews
- I tend to just write a review and post it, but this is something that's not working for me now, health wise, because it's not giving me the flexibility (or letting me feel like I've got the flexibility) to do what I need to to take care of me some times. I'm sometimes forcing myself to write reviews (or other posts) because I think I need the content when really I should be resting. So I want to stay ahead of myself and have reviews/posts scheduled so that when I do have bad days/weeks (and there were a LOT in 2010) I don't feel like I need to do anything more than spend the day in bed resting.
The Giveaway!
I'm offering a copy/pre-order of one of the following 2011 debuts (all of which I've read and loved) to one winner!
Open internationally
as long as Book Depository ships to you!! Please check this list
here
to be sure!
To enter, you MUST fill out your name (or alias) and email address in the form below.
Extra entries:
+1 for being a follower (old or new)
+1 for tweeting (must leave the link! Won't count otherwise)
Max entries you can get: 3
Multiple entries will be deleted!
Giveaway closes at midnight Jan 9th EST. Winner will be picked via Random.org notified and announced on the blog on Jan 10th. Winner will have 48 hours to reply or I will choose another winner.
Thanks for stopping by! I'd love to know some of your New Year's resolutions, bookish and otherwise! And be sure to check out more of the great giveaways going on: