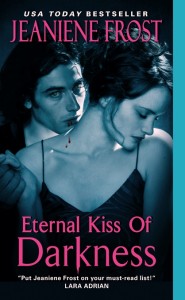 "An immortal way has been brewing in the darkness...and now one woman has stumbled into the shadows.





Chicago private investigator Kira Graceling should have just kept walking. But her sense of duty refused to let her ignore the moans of pain coming from inside a warehouse just before dawn. Suddenly she finds herself in a world she's only imagined in her worst nightmares.





At the center is Mencheres, a breathtaking Master vampire who thought he'd seen it all. Then Kira appears - this fearless, beautiful...

human

who braved death to rescue him. Though he burns for her, keeping Kira in his world means risking her life. Yet sending her away is unthinkable.





But with danger closing in, Mencheres must choose either the woman he craves, or embracing the darkest magic to defeat an enemy bent on his eternal destruction."
This is the second book in Jeaniene's Night Huntress World series, the spin off to her Night Huntress series. Eternal Kiss of Darkness follows Mencheres who has played a significant role in the NH series, but always seemed very aloof, always appeared to have ulterior motives and I never really liked him. But having at least liked all of Jeaniene's other books, and having loved her first NHW book, First Drop of Crimson featuring Spade and Denise, when I didn't think I would, I gave it a chance. Turns out, like FDoC, I loved it. Mencheres is far easier to like and surprisingly easy to get to know when you're getting the story from his point of view. He may not show or share much with the people around him, but he is always thinking, always trying to take care of his line and those he cares about as best he can.
Kira was just as easy to like. She's tough and smart, taking things in her stride. She could easily be overwhelmed by the things she discovers and the things that happen to her in the vampire world, but instead she accepts and deals. Stubborn and unwilling to keep her mouth shut even in front of some of the most powerful vampires there are, she's determined to make the best of her situation and maybe save a life as well if she can.
The Night Huntress World books are told in alternating third person POV, so with this one it's from Mencheres and Kira's POV's. It makes it easy to get to know, and like, both characters easier as well as giving a better all around view being able to see things from different perspectives. A vampire who is several thousands of years old sees things a little differently to a 30 year old woman. The contrast makes things interesting as well.
I have to say that the book was a little predictable. Did figure things out pretty easily and nothing really came as a surprise. But it still kept me interested and I finished it in a couple of days. It's got it's dark and serious side, but there are some fun edges to it as well, not to mention Jeaniene's typically hot smex scenes! It's fast paced and the characters were strong enough to keep me very interested past the plot, enough that I still loved the book. The ending was good though I wish there had been a little more too it. It was another of those cases where there was a lot of build up, and then it was just kind of over which was a little disappointing. Still a good read and although Jeaniene's books don't hit top level favourite for me, they're still very, very good and I'd recommend them. 7/10