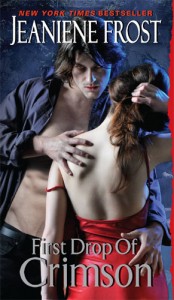 First Drop of Crimson is the first book in Jeaniene's Night Huntress World series, the spin off from her main Night Huntress series. It follows Denise, Cat's best friend, about a year after the traumatic death of her husband at the hands of vampires. She wants nothing to do with that world and just wants to be left alone to grieve. But a couple family members have died suddenly from heart attacks, and Denise is suspicious. She doesn't want to call Cat though, or her husband Bones, so instead she calls Bones long time friend, Spade.
Spade is a vampire who has lusted after Denise since he first laid eyes on her. But she was married, and his best friend's wife's best friends, automatically off limits. When he gets the call from her he first suspects she's seeing more than there is. But when he arrives at her house and finds a demon recently left, he realises that it's a whole lot worse than either of them knew. He's determined to help her and keep her alive, but the more he's around her, the harder it is for him to resist her. And that could be deadly for both of them.
I loved the first two books in Jeaniene's Night Huntress series, but I didn't enjoy 3 or 4 as much and I wasn't sure I'd like a book with Spade and Denise as the leads. I was wrong, I loved this book! I love Spade a lot more than I do Bones, and Denise has grown on me hugely too. The book is told in third person, but switching between Spade and Denise's perspectives giving the reader a clear view of what they're both going through and how they feel.
The action starts up pretty quick and doesn't really let up. I liked the plot and how it all worked out, along with how both Spade and Denise grew through the book as they dealt with their personal issues as well as the demon ones. They're both strong characters, but with painful pasts that consume them. I really felt for Denise as she struggled to come to terms with what happened to her husband and her feelings about the supernatural world. And I totally fell in love with Spade as more of him was revealed and his actions explained.
Overall, a really great book with some interesting hints at some other side characters already met in the Night Huntress books. I'd love to have more books about Spade and Denise in the future. It could probably be read just fine as a standalone book, but I think readers would benefit from having read the first four Night Huntress books first (Halfway to the Grave, One Foot in the Grave, At Grave's End, Destined for an Early Grave). There was real tension and feeling to the book, and I loved the ending. I'm looking forward to the next books in this series now, and the original one. 8/10